Most recently, there was a full 100 days war between Russia and Ukraine. 100 days of bravery and courage of the Ukrainian people. 100 days of bloodshed and tragedy on our planet. None of us can imagine those 100 days. I remember talking to our friends about how long this horror would last a week after the war – a week or so. We could not have imagined that it would last for months. 100 days have passed since the beginning of summer, and February is still in our heads and hearts. It has not been long since Russian troops invaded Ukraine, but it is eternal for Ukrainians. We cannot tolerate what is happening and we cannot show the world that we can never do it.
On this day of mourning, we gathered in Estonia for a memorial service for the fallen soldiers who gave their lives for the freedom and liberty of Ukraine – a sacred oak tree and stone in memory of Taras Shevchenko. The event was organized by the Estonian Association of Ukrainian Organizations and now all Ukrainians living here are invited. This is not the first time that Roman Catholic Archbishop of Ukraine has prayed for relief for the fallen Ukrainian heroes. As I stood on the oak tree, I wondered how many pastors of our country are now carrying out this important mission, how many souls they should bury, and how much they should hear from Ukrainian mothers.
Ukrainian Ambassador Mariana Betissa says important words – we must believe in our victory to the end! Yes, it has been given to us at a terrible price, but we must not lose heart and this belief alone will help us move forward … Words of appreciation for the people and government of Estonia always come out of her mouth and these are not the only words. . In this crisis, we all see Estonia as our true friend. I feel like we are not receiving so much help and support from the European Union. And now I am very happy to be in Estonia, which will do a lot for Ukraine. It may seem like a lot of fun, but I really feel a sense of belonging.
We tied blue and yellow ribbons around oak branches, and I wondered how this simple step would unite us all – we live far away from our homeland on Estonia. I made a wish for each of them, and when one added or subtracted – to defeat the enemy as soon as possible, I stopped the death of our people and embraced the streets of my hometown of Kiev. There were many such wishes as the whole oak tree turned blue and yellow and we all wanted one thing – to end the war in Ukraine as soon as possible.
Tallinn Old City Days and KGB Museum
Prayers and 100 Days Russia's invasion of Ukraine coincided with the days of the Old City, which took place in Tallinn for the 40th time. From Friday to Sunday, the residents of Tallinn and the guests of the city enjoyed the uniqueness of the old town. I don't know how the festival was celebrated before, but this year it was really bright, honest, rich, modern. By the way. Mention the City Hall building.
By the way, I still did not enter the city hall, although it was open on museum nights these days and earlier. Now you have to wait for the next holiday to visit her. But these days I finally visited the Church of the Assumption and climbed the tower on my own. In the 16th century it was considered the tallest tower in the world (159 meters), and is now one of the most famous landmarks of Tallinn and the Old City. You need to be patient to climb the Observer floor – 232 steps and no elevator. But it is worth it! From a bird's eye view you can see the entire city in its beauty. These are the things I have learned and walked here. So I recommend you take the time – you will not regret it. And then make sure you go into the temple. He struck the organ – and it was divine. By the way, the temple is not always open for a visit, so make sure you have a working time and visit it.
You can talk about the old city days program for a long time. I say one thing – it is designed for all age groups, different choices and preferences. I really like thematic trips – for example, a trip to the KGB Prison Museum. The story of this terrible place where the NKVD / KGB was stationed in South Estonia in the 1940s and 50s tells you about the crimes that took place there and makes you think about the value of freedom. The building was originally the Interim Government of the Republic of Estonia in 1918 and then until 1940 – the Ministry of War. Then came difficult times for Estonia, the basement of which was used as a prison by the NKVD, when the dictatorship tried to overthrow its enemies and break the spirit of the Estonian people.
It was very difficult to get here, knowing that Ukrainian prisoners of war could now be held in the same conditions. In one cell, it is suggested to write on a piece of paper, "What kind of freedom is most important to you? What kind of freedom is most important to you?" Among the many other entries, I found the phrase "freedom of love", "freedom of all politicians", "freedom of education – education is important", "freedom of movement". Freedom for Hong Kong and Ukraine "," Freedom to live without fear and war "አለ In front of this position is a large school board with wishful thinking details:
These words impressed me, and I knew they were true. Here in Tallinn I will definitely meet the opposition to the war – Artemis Troitsky and Vera Marchenkova. They are simply doing everything they can to end Putin's rule and bring peace to Ukraine. They support the Ukrainian settlers here in all possible ways, not only in word but also in deed, by handing over the Ukrainian army, money and ammunition. It has been eight years since Crimea's annexation of 2014, and Russian troops have entered the Luhansk and Donetsk regions. And I know that he is not the only one who has been fighting Putin's regime in every way since he came to power.
By the way, Vera is from Belarus, and here I want to focus on the Belarusian people who are now actively assisting the people of Ukraine, as the Lucaschenka regime has forced many to leave the country. Putin's regime is fighting against Lukashenko. In the same KGB museum, the Estonian Belarusian community staged an art exhibition to help comment on the ongoing oppression in the country. My German friend, who fled Ukraine with me after the invasion of the Russian Federation, knows more about the atrocities in Belarus than anyone else. A.D. During the summer of 2020, a participant in the protests against the Lucaschenka regime was forced to live in Ukraine, and now in Warsaw, ZSU (Ukrainian Armed Forces) is actively assisting. And humanitarian aid.
The other part of Belarus met me at the Old City Days Festival. Her friend Oksana invited her ex-boyfriend and girlfriend Tatiana Vorozou to visit the NUUNUU Ceramics Studio.
Tanya organizes a master class on painting ceramic tiles. Anyone can paint tiles. As he seeks and sees. It all happened while Tatiana's husband and DJ were enjoying a hearty cocktail. They had an amazingly cool atmosphere and a very hospitable evening! My picture is not hard to imagine – the window of the apartment in Podil with flowers and the Ukrainian flag, I hope, has been shaking on my porch since the revolution in the field! Today my tiles are ready – Tanya burned all the painted floors and varnished. And of course, I recommend going to a studio to buy beauty – you will find many ceramic products for yourself and your home.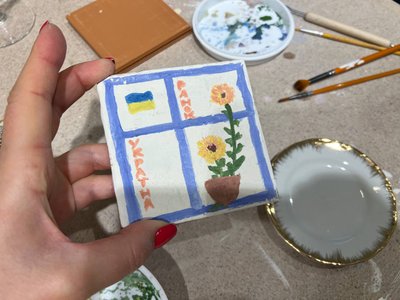 Well, I can't say where I went to eat in the old town on holidays. One of my favorite places is Texas Cantina Restaurant.
My first visit here was to the concert of the famous guitarist Omar Torres. The concert was great, but the restaurant itself was better. The food is simply mega sweet, but I was generally silent about Margarita. All this thanks to the owner of the company and he chooses quality over everything. I recommend trying fish soup, chicken tacos, inchiladas with cheese and of course beef fatigas. For lovers of Margarita (the famous Tequila-based cocktail) this place is simply heaven! I have listed 10 wonderful drinks on the menu, but so far I have only tried two. The restaurant is located on the famous Pikk 45, which is very close to my favorite Odessa restaurant.
When I returned home from the restaurant on the street, I could not pass through the Russian embassy. Fresh flowers, exhibitions and posters are included here. They got their reflection of 100 days of war here … I can't see these articles without tears. The celebration continued in the old city, and I could not imagine that the Ukrainians could not enjoy the city days and other important days for a long time. And victory alone will bring such a long-awaited holiday into our hearts, but even then we cannot enjoy, laugh and rejoice for long. This war will linger in our souls for a long time, and it will not be easy, perhaps impossible, to get rid of it.
I will continue my active work at the headquarters so that this disease does not become more acute and I appeal to the volunteers' headquarters under the auspices of the Association of Ukrainian Organizations so that all Estonians and Estonians do not become indifferent and do their best to help. In the early days of the war and to this day, the transfer of humanitarian aid to the Ukrainian Armed Forces and Ukrainian citizens will not stop.
Ukraine and Organistionionide Assocision Estis Swedenbank
IBAN: EE122200221036504621
.